Orlando City wins home debut, reigning champs still unbeaten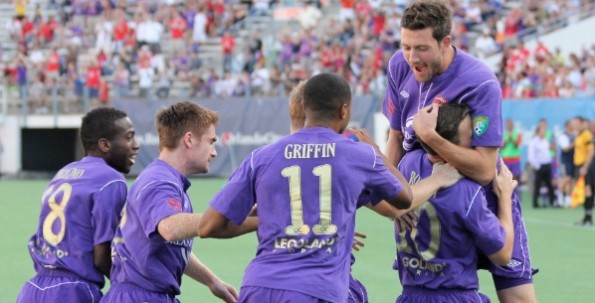 John Rooney scored twice as Orlando City won their home opener, 4-1 against the visiting Wilmington Hammerheads, in front of 8,421 fans Sunday afternoon at the Florida Citrus Bowl.
"After scoring a goal, you get a boost," said Rooney after notching a brace in his home debut. "The main point is that we got the three points."
Rooney scored in the ninth and 40th minute, as he opened his Orlando City scoring account. Dennis Chinn secured the victory when he made it 4-1 in the 65th minute.
"The way Adrian has us playing it enables me to get many chances, so I'm just trying to put them away," said Dennis Chinn.
Despite the win, Coach Adrian Heath wasn't all that satisfied. "I thought a lot of our players were a bit disjointed," said Heath. "Didn't surprise me that they scored a goal from a corner, I'm only surprised it was only one."
The Lions got off to an early lead when a hand ball in Wilmington's penalty box was called in the ninth minute. John Rooney shot the spot kick to give City a 1-0 lead.
Captain Miguel Gallardo returned to action, after serving a one-game suspension, when he received a red card in last years 2011 USL Pro Championship game.
However, Bryle Taylor spoiled Gallardo's chance on earning a shutout, when he scored in the 56th minute.
Rob Valentino made it 3-0 in the 54th minute, when John Rooney connected a clear corner kick.
Max Griffin who lead the team in scoring last season, has yet to score this season. "I feel just with the fan base that we have its always hard to compete," said Griffin. "Our goal is not to lose any games."
Orlando City won their second consecutive game of the season, after opening the USL Pro Season with a 2-0 victory over the Charlotte Eagles.
Orlando City improve to 2-0-0, and are on the road next week when they visit the Richmond Kickers. Wilmington Hammerheads host the Harrisburg City Islanders next week in their home opener.
Last 5 stories in Orlando City Soccer