Orlando answers the call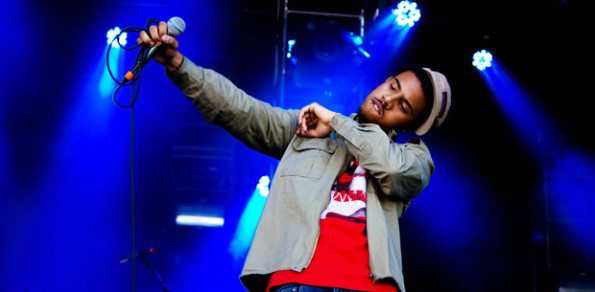 By Felicia Roopchand / froopchand@valenciavoice.com
November 15, 2011
Filed under Entertainment
When I first heard that Orlando Calling was the city's first really big music festival, I was surprised. Born and raised in Maryland, we usually get about two or three festivals every summer. It really made me smile to see all the people waiting in line, giddy with excitement like it was Christmas morning.
The first band of the day was Dollface, an all-girl rock band. These women are the epitome of what a girl rock band should be: sexy with the ability to kick your ass.
The Ettes' drummer, Maria "Poni" Silver, stole the show during their set. Her moves (and hair) were reminiscent of Animal from "The Muppets." If the show was just her on the drums, I could sit and watch for hours.
Kids These Days was the most pleasant surprise of all. With an eclectic mix of performers and instruments, it's like your high school garage band did something right. Without the distraction of fancy lights, and dressed in what seemed to be their everyday clothes, there were no gimmicks, just music. They're young, talented and proving to anyone who is doubtful of their skills that kids these days do indeed have a promising future.
The rest of the day consisted of artists such as Parachute, Kid Cudi, and O.A.R. The only problem I had was the fact that someone decided to schedule The Roots the same time as The Raconteurs. How was I suppose to decide between ?uestlove or Jack White?!? Well, I found out via twitter that ?uestlove wouldn't be with the rest of his band members, so that made the decision a bit easier for me, but in the end we got a bit of both. We saw The Raconteurs open up at the main stage, ran over to the authentic stage for one song by The Roots and then ran right back to Jack White and his guitar.
Speaking of which, watching Jack White play his guitar almost felt as if we were intruding on something much more intimate. He owned his number 17 spot on Rolling Stones' list of 100 greatest guitarists of all time. I was completely memorized.
Last but most certainly not least were the headliners of the first day of the festival, The Killers. Going from their opening number of "Spaceman" to their first big hit, "Somebody Told Me," the audience was singing along to every song. The climax of their set had to be "Mr. Brightside." You almost couldn't hear front man Brandon Flowers because the audience kept up with him word for word. The crowd chanted the lyrics in an almost spiritual experience until confetti blasted into the sky. They came back out for an encore with "When You Were Young," the perfect ending to an amazing day.
The first day of Orlando Calling was well deserved by the city of Orlando. Hopefully Festival Republic will be back in 2012 with another musically magical festival.
Last 5 stories in Entertainment